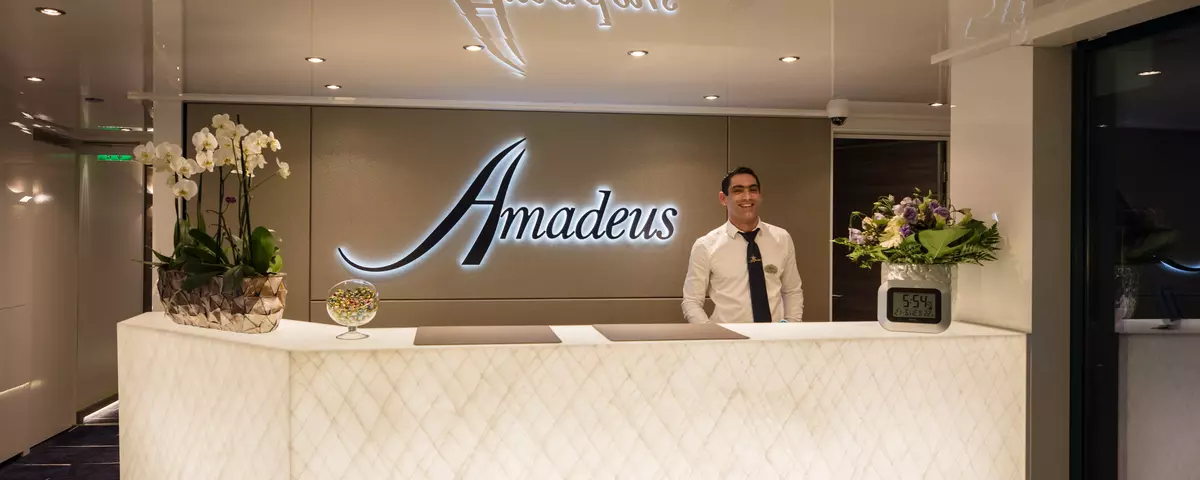 Travel Terms & Conditions
TravelBrands is the booking agent and is not itself a transport, tour, event or accommodation provider and acts only as an agent for those service providers.
HOW TO BOOK
Please contact your travel agent who will request a reservation on your behalf. All requests for reservations are subject to availability.
PRICES
All rates are in Canadian dollars. TravelBrands reserves the rights to correct any errors in rates quoted or calculated, or any omissions made at any time during your booking. Any verbal quote given is an indication only of the final price and is subject to confirmation in writing.
CARRIER'S DISCRETION
Amadeus Cruises as the carrier, reserve the right at any time, without notice, to cancel any cruise to change or postpone the date or time of sailing or arrival, to change the port of embarkation or disembarkation, to shorten the cruise or substitute the Ship. If required to do any of these things, they will be responsible to you as follows:
1. If they cancel the cruise before it has started, they will refund the cruise fare that they have received or provide another substitute Cruise.
2. If the scheduled sailing date or time is delayed and as a result of that delay you are not otherwise accommodated on board the Ship, they may arrange shore side accommodations and food at no additional expense to you for the duration of the delay.
3. If the scheduled port of embarkation or disembarkation is changed, they will arrange transportation to the new port from the originally scheduled port.
4. If any governmental agency publishes an informative announcement regarding travel conditions in or to a specific country or location included in the scheduled itinerary, they reserve the right to operate the Cruise as scheduled; alternatively, they reserve the right to cancel the Cruise and return all monies paid.
5. If the Cruise is shortened or terminated, they will, at their option, either make a proportionate refund of the Cruise Fare or transfer you to another ship or the port of disembarkation by other means. If the scheduled length of the Cruise Fare is increased, you will have no responsibility for the cost of any additional Cruise Fare and they will have no responsibility to pay or compensate you in any manner, including consequential damages. In either of the above circumstances, their responsibility ends once they return you to the point of origination as booked and ticketed by us.
6. They reserve the right, in their sole discretion, to return all monies paid and deny embarkation to any person other than for reasons related to discrimination on the basis of race, religion or sexual preference.
DEPOSITS
A non-refundable deposit of 10% of the cruise price is required to secure your place within 7 days of booking.
FINAL PAYMENT
Final payment is due no later than 120 days prior to travel on your cruise unless otherwise specified.
CREDIT CARDS
Credit card payments by Visa, MasterCard and American Express.
CANCELLATIONS
All cancellations must be received in writing and are subject to the following schedule of fees:
Days prior to departure:
• 121 days and more 10% of total cruise fare per person (full deposit)
• 120-90 days 50% of total cruise fare per person
• 89-60 days 80% of total cruise fare per person
• Less than 60 days 100% of total cruise fare per person The aforementioned cancellation fees are in addition to any that may be charged by travel agents, airlines, hotels or other tour operators.
REFUNDS
To the extent permitted by law, no refund is available for cancellations after travel has commenced or in respect of any tours, accommodation, meals or any other services not utilised.
TRAVEL DOCUMENTS
Travel documents will be sent to you approximately 14 days prior to departure (providing full payment has been received). If you are leaving home earlier, please advise us so that we can deliver your documents before you depart.
TRAVEL INSURANCE
It is a condition of travel that each passenger is adequately covered by an appropriate travel insurance policy. Please also check the contingencies of your prospective insurance cover and ensure you are aware of its conditions and omissions. We strongly advise travel insurance from time of booking to provide full cover. Bookings under deposit are subject to a $50 charge per change.
HEALTH REQUIREMENTS
All customers are required to familiarise themselves with any health requirements specific to countries being visited.
PASSPORTS AND VISAS
It is the responsibility of the passenger to have a valid passport (which is valid for at least six months from your last day of travel) and all visas, permits and certificates required for the selected tour. Ask your travel agent for further information.
BOOKING ARRANGEMENTS
The person making a booking will be deemed to have accepted these booking conditions on behalf of everyone named in the booking. Only the person making the booking is authorised to make changes to or cancel the booking. All communications from us will usually be sent to your travel agent. Your travel agent is responsible for forwarding payments made by you to us.
LIMITATION OF LIABILITY
To the extent permitted by law, TravelBrands excludes all liability for any loss or damage whatsoever (including but not limited to physical and psychological injury, and loss or damage to property of whatever nature) that may arise in any way in connection with the offer or supply of goods or services through TravelBrands or any third parties, or in connection with the supply of such goods or services. If the law implies a condition. Please note the below terms and conditions PREVAIL over those found on page 98/99 of the 2017 Amadeus River Cruises/TravelBrands brochure. Electronic copy is available on www.amadeus-rivercruises.ca. We apologize for the inconvenience. or warranty that cannot be excluded, TravelBrands liability for a breach of the conditions or warranty will be limited as determined by TravelBrands to the re-supply or payment of the cost of re-supplying the relevant goods or services. Except where otherwise stated within these terms and conditions TravelBrands
excludes liability for any loss or damage that may be caused by cancellation, abandonment, alteration, amendment, modification or termination of the tour.
EVENTS BEYOND OUR CONTROL
If a tour cannot proceed due to a force majeure event including but not limited to flood, earthquake, war or civil strife, acts of terrorism, hurricane, cyclone, industrial disturbance, strike, fire, lock out, epidemic, failure or delays of scheduled transportation facilities, or other Acts of God, or any law, order, decree, rule or regulation of any government authority, or for any reason whether of a similar or dissimilar nature beyond the control of TravelBrands, this agreement shall terminate and there shall be no claim for damages by either party against the other.
COMPLAINTS PROCEDURE
Should you have a complaint while on the cruise, you should inform your Cruise Director immediately. If the matter cannot be resolved after their best endeavours to do so during the cruise, your complaint can be made in writing to your travel agent. TravelBrands cannot help with issues that were not brought to the attention of the Cruise Director during the cruise.
CONDITIONS OF TRAVEL
AGENT RESPONSIBILITY
It is the travel agents responsibility to ensure that all invoice and itinerary details and documentation issued by TravelBrands are correct and that the customer is aware of amendment and cancellation conditions and other clauses in these booking conditions.
LAW OF CONTRACT
This agreement shall be governed and interpreted in accordance with the laws of Canada.
CHILDREN/MINORS
Due to the nature of our cruise itineraries, Amadeus Cruises does not maintain facilities or services for children aboard their cruise vessels. On all cruises and cruise journeys, minors under the age of 18 must be accompanied and share a cabin with a parent, legal guardian or other responsible adult over the age of 21. We regret that we cannot accommodate children under 12 years of age, and we reserve the right to limit the number of minors under the age of 18 years on board.
DISABLED PASSENGERS
We welcome guests with special needs. Guests who have any medical, physical or other special needs must contact their Travel Agent directly to obtain specific information. All vessels and coaches are equipped to European standards. Vessel operators will, under appropriate circumstances, permit passengers to use motorised scooters and wheelchairs that satisfy criteria confirmed by Amadeus Cruises. In all cases passengers must understand and accept that the vessels do not have lifts permitting easy access from deck to deck, and that some decks are multi-level and/or have significant thresholds to be negotiated. Accordingly physically disabled passengers may need the services of a responsible adult, and should be aware that crew availability to assist them is often severely limited.
OPERATORS
The ships described in this brochure are operated by Danubia Kreuzfahrten GmbH / Vienna-Austria.
TRAVELBRANDS
TravelBrands acts solely as a Sales Agent/ Preferred Supplier for the above-mentioned operators of the vessels described in this brochure. TravelBrands neither owns nor operates any of the vessels described herein and thus assumes no responsibility or liability for acts or
omissions of the vessel owners or operators in regard to the cruises described herein.
RESPONSIBILITY
TravelBrands accepts no liability or responsibility, whether occasioned by railroad, motor coach or any other conveyance, for any injury, damages, loss, accident, delay or irregularity which may be occasioned either by reason or defect, through the acts or defaults of any company or person, or in carrying out the arrangements of the tour, as a result of any cause beyond the control of TravelBrands. Guests specifically release TravelBrands from all claims for loss or damage to baggage or property or from personal injuries or death, or from loss or delay, arising out of the acts, omissions or negligence of any independent contractors, such as air carriers, hotels, shore excursion operators, restaurateurs, transportation providers, medical personnel or other providers of services or facilities. All arrangements made for tour participants with independent contractors, including medical services, are made solely for convenience to participants and are done at the participant's own risk. Medical personnel are independent contractors. TravelBrands specifically disclaims all liability for damages for emotional distress, mental su ering or psychological injury of any kind. Tickets, vouchers, and any other travel documents are subject to all terms and conditions of the respective suppliers (some of which may limit supplier's liability). Under no circumstances shall TravelBrands be construed as a carrier under a contract for safe carriage of the passenger or his or her belongings. TravelBrands and the owners and operators of the vessels identified in this brochure shall be entitled to any and all liability limitations, immunities and rights applicable to them or any of them under the Strasbourg Convention on the Limitation of Liability of Owners of Inland Navigation Vessels (CLNI), with protocols and amendments, together with the further provisions of the International Convention of Limitation of Liability for Maritime Claims, 1976, with revisions and amendments (hereinafter collectively referred to as the "Convention"), if and as applicable, as well as any other applicable nation's laws limiting liability. TravelBrands and the owners and operators of the vessels identified in this brochure shall be entitled to claim the benefit of whichever law, regulation, treaty or doctrine provides the greatest legal protections to TravelBrands and the owners and operators of the vessels identified in this brochure.
REFUSAL OF PASSAGE
TravelBrands shall not be required to refund any amount paid by any tour participant who must leave the tour prematurely for any reason, nor shall TravelBrands or the owners or operators of the vessels identified in this brochure be responsible for the lodging, meals, return transportation or other expenses incurred by such tour participant.
MORE INFORMATION
Contact your travel agent.
Red Label Vacations Inc – d.b.a. .TravelBrands, B.C. Reg. #3597, Ont. Reg. # 50022275, Quebec permit holder #703376, with offices at 5450 Explorer Drive, Suite 400, Mississauga, ON L4W 5N1 • 2355 Skymark Ave, Suite 200, Mississauga, ON L4W 4Y6 • 1050 West Pender Street, floor 22, Vancouver, BC V6A 3S7 • 325-1257 Guy street, Montreal, QC H3H 2K5.
---
---